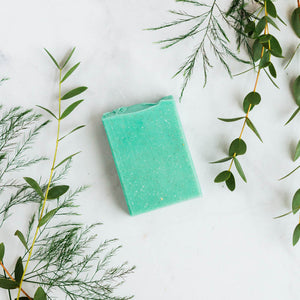 Spearmint & Lemongrass Body Bar
Regular price
$8.50
$0.00
Bright, uplifting, and minty fresh, this essential oil blend will wake you up and bring a smile to your face! The inclusion of walnut hulls adds a gentle exfoliation to the bar. 
Our natural, cold process soaps are made by hand from a premium blend of oils, including Coconut Oil, Shea Butter, and Rice Bran Oil, and are designed to gently cleanse and nourish your skin without leaving it dry and irritated.
Ingredients: Palm Oil, Water, Coconut Oil, Shea Butter, Rice Bran Oil, Safflower Seed Oil, Sodium Hydroxide, Castor Seed Oil, Spearmint Oil, Lemongrass Oil, Sodium Lactate, Walnut Hulls, Mica, Titanium Dioxide, Chromium Oxide Green
Each individual batch and bar is unique and might have slight variation in the design pictured. Our bars are very large (over 5 oz) and are formulated for a long life in your shower or on your sink. To make your bars last as long as possible, store it in a soap dish and keep it dry between uses. You can also cut the bars in half for easier handling. 
We are committed to putting only the best ingredients in our products. All of our products are vegan and sustainably sourced. None of our products contain GMOs, petroleum byproducts, pthalates, parabens, or sodium laurel (or laureth) sulfates.
---